A Gathering Light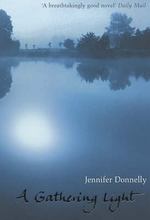 Stock information
: $20

.00

(AUD)

: Bloomsbury Publishing PLC
:
: 198mm X 129mm
: United Kingdom
: 0.323
: 9780747570639
: 16.95
: Bloomsbury Publishing PLC
: January 2004
: general
9780747570639
Promotion info
Chosen as a Richard & Judy Summer Read 2004. Shortlisted for the Carngie Medal 2003. To be a Radio 4 Book at Bedtime in August 2004.
Reviews
'The wonderfully confident debut by Jennifer Donnelly.' Lindsay Fraser, Sunday Herald 'A GATHERING LIGHT is a remarkable debut, a book that sweeps across the genre boundaries of murder, mystery, romance, and historical fiction - resulting in an original novel that is both gripping and touching.' Scott Turow 'If ever a book deserved to cross over, this is it...this is a wonderfully rich, involving and beautifully written book.' Adele Geras, Guardian 'Part history, part compelling murder mystery, Jennifer Donnelly's A GATHERING LIGHT brings the past to powerful and vivid life.' Celia Rees
Description
When hotel waitress Mattie is given letters by a woman who is later found drowned in the nearby lake, she is forced to reconsider her future in the small rural community in which she has always lived.
Will she leave her careworn, widowed father and younger brothers and sisters? Will she be happy marrying the son of their farmer neighbours or does he have a hidden agenda? Or will she follow her teacher and mentor, the "notorious" Ms Wilcox, and seek a college education and independence in turn-of-the-20th-century America?
Donnelly has based her first novel on a true murder mystery, but has incorporated many social injustices, such as women's rights and racism, into an outstanding and wonderfully satisfying story of a young woman's coming of age. The uncovering of secrets in her narrow-minded community, plus the terrible truth in the letters she had promised to destroy, give Mattie the courage to decide whether justice should be done, and the pluck to follow her head and not her heart.
A romantic, epic saga, that will appeal to 13+ year olds.